News & Events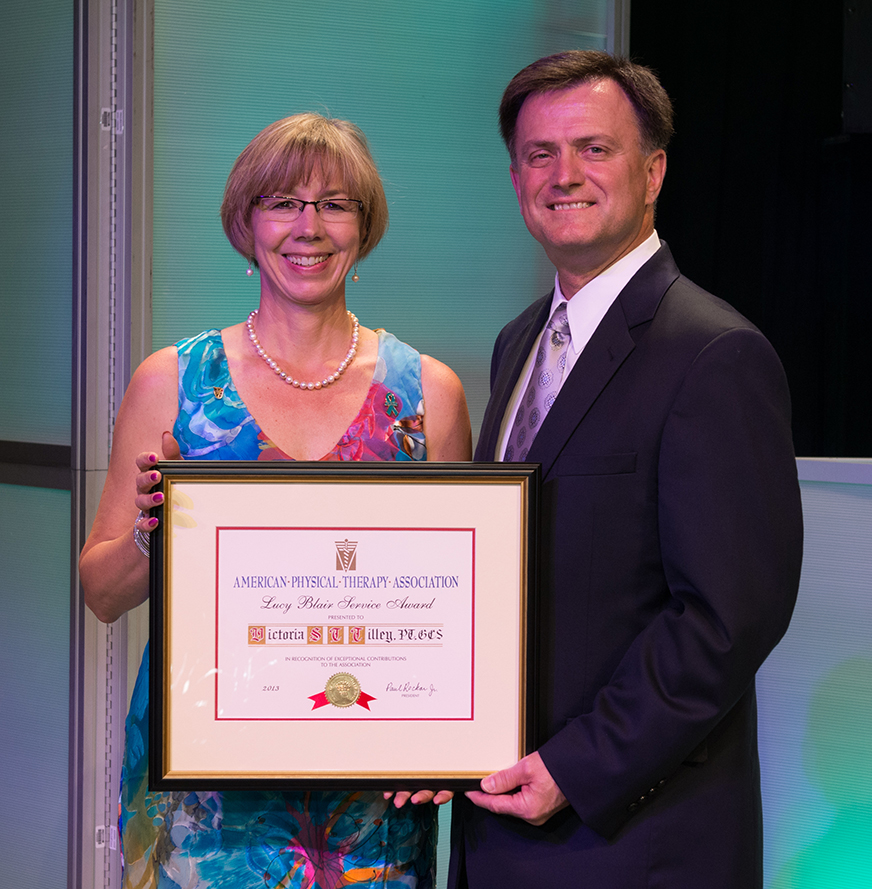 FOR IMMEDIATE RELEASE
Contact: Jennifer Rondon
Senior Public Relations Specialist
E-mail: jenniferrondon@apta.org
Hillsborough Physical Therapist Receives The Lucy Blair Service Award From The American Physical Therapy Association
Wednesday, August 14, 2013
Physical therapist and American Physical Therapy Association (APTA) member Victoria S. Tilley, PT, GCS, of Hillsborough, North Carolina, received APTA's Lucy Blair Service Award during the APTA Conference & Exposition held in Salt Lake City, Utah, June 26-29, 2013.
Tilley is president and founder of ElderFit Physical Therapy & Consulting Inc., a geriatric-based practice in Hillsborough that offers in-home and community-based skilled physical therapy and occupational therapy services, wellness consultation, senior exercise classes, and reimbursement consultation.
A board-certified geriatric clinical specialist, Tilley has held numerous leadership positions at the North Carolina Physical Therapy Association, including chief delegate to the APTA House of Delegates, state delegate, director of membership, and chairman of the Legislative Committee. Tilley is the recipient of the North Carolina Physical Therapy Association's 2006 Olive V. Wortman Service Award. Tilley served as chair of the APTA Health Promotion and Wellness Special-Interest Group of the Section on Geriatrics and served on the advisory panels on practice and reimbursement. She also was a consultant to APTA on CPT coding and the effects of the 1997 Balanced Budget Act, among other leadership positions.
Tilley cofounded the Special Olympics FUNfitness screening program and currently serves as its North American clinical services coordinator. FUNfitness is a component of the Special Olympics Healthy Athletes program, which is the largest provider of free health screenings in the world. Tilley has worked with Special Olympics Inc. since 2001 as a consultant for the development, implementation, and monitoring of the FUNfitness program nationally and internationally. Tilley has participated in all of the Special Olympics World Summer and Winter Games since 1999, including the 2013 Special Olympics World Winter Games in Pyeongchang, South Korea.
The Lucy Blair Service Award honors members who have made exceptional contributions to the association through district, chapter, committee, section, task force, or national activities. Lucy Blair (deceased 1985) was known for qualities such as having unswerving dedication, self-sacrifice without limit, an infectious enthusiasm, strong personal and professional values, a sharp wit and sense of humor, and a genuine interest and concern for every individual she met.
About APTA
The American Physical Therapy Association (APTA) represents more than 85,000 physical therapists, physical therapist assistants, and students of physical therapy nationwide. Learn more about conditions physical therapists can treat and find a physical therapist in your area at www.moveforwardpt.com/findapt. Consumers are encouraged to follow us on Twitter (@MoveForwardPT), Facebook, YouTube, and Pinterest.